Kimal Cares
Big Hearts for the Kids.
Why do we do this, and why choose Johns Hopkins All Children's Hospital and the Ronald McDonald House as the exclusive beneficiaries for our fundraising efforts?
Al Bavry, the charity's founders, explains:
"Prior to 2002, we were probably like most companies: We'd get almost daily requests from organizations for money, and always tried to be responsive and supportive. It occurred to us, though, that writing these fifty-dollar, hundred-dollar, or whatever amount checks, was not only time-consuming, but that size check simply couldn't have a large impact by itself. So instead, Kimal started "Building to a Cure" to consolidate and support our donations in a more significant way…Staying in the community and having local benefits.
We're proud to say the Johns Hopkins All Children's Hospital and Ronald McDonald House of Tampa Bay meet those tough standards, and then some… and by having a fundraising "home" with them, in the past and in the foreseeable future, we will be raising money for these great organizations."
Since 2018, when Gulfeagle Supply Company acquired Kimal Lumber, we continue to fundraise and support this mission. Although the old name "Building to a Cure" is no longer used, the program remains alive and well under the new name, "Kimal Cares."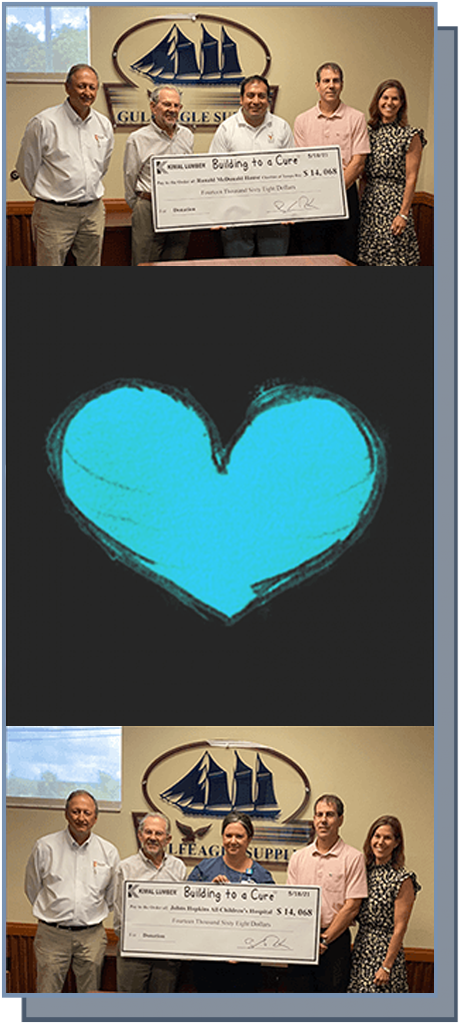 Funds given to:
Johns Hopkins All Children's Hospital & Ronald McDonald House to date: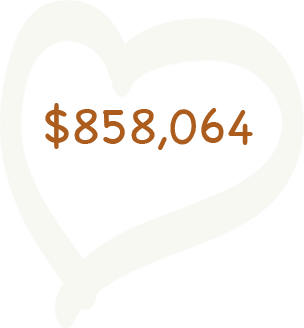 2002 - $ 25,110
2003 - $ 30,960
2004 - $ 51,700
2005 - $ 52,200
2006 - $ 72,828
2007 - $ 59,274
2008 - $ 40,460
2009 - $ 28,288
2010 - $ 26,761
2011 - $ 28,753
2012 - $ 32,840
2013 - $ 35,632
2014 - $ 38,502
2015 - $ 43,727
2016 - $ 53,371
2017 - $ 56,846
2018 - $ 61,553
2019 - $ 57,927
2020 - $ 28,136
2022 - $ 33,196